System 2: San Francisco
Details for System 2
About the System
:
The C.A.R.L.A. 2 repeater went on the air in the mid 70's making it one of the oldest 70cm repeaters in the Bay Area and the first repeater in the C.A.R.L.A. system. This repeater is used several times each year to provide radio communications for community functions such as parades, bike races, and different Red Cross functions to name a few. This repeater features a 2 meter remote base.
---
Tidbits
:
An interesting tidbit about C.A.R.L.A. 2 - During the San Francisco Grand Prix Bike Race in September 2001, Robin Williams put in an appearance and was interviewed by ABC television which was televising the race. Right after the interview Robin picked up a nearby mic and "third partied" on the C.A.R.L.A. 2 repeater, talking to a few of the hams who were using C.A.R.L.A. 2 for Race communications.
Click here to read more...
---
System 2: San Francisco
N6MVT



| | |
| --- | --- |
| Frequency: | 442.075+ |
| Link PL: | 162.2 |
| Local PL: | 100.0 |
| Site Name: | Downtown San Francisco |
| Elevation: | 600' |
| City: | San Francisco, CA |
| Controller: | SCOM 7330 |
| System Config: | Permanent Dual PL Link/Local System |



System Equipment Photo


Click the thumbnail below for a larger view





Dual PL & Courtesy Tones
This particular repeater in the C.A.R.L.A. System has a
Dual PL
. You can use the
Link PL
to hold a conversation with someone elsewhere on the network, or the
Local PL
to converse with someone who is on the same repeater as you are.
You can read more about the
Dual PL
system and the
Courtesy Tones
that are used on the system.
Coverage for System 2
The flagship system located in the heart of downtown San Francisco since 1980. Even though it is at 600', it covers most all of San Francisco, South along the peninsula, and parts of I-280 to San Jose, back up the East Bay corridor through Vallejo and East out Hwy 24 to I-680. North into Marin, Sonoma and Napa Counties as well as parts of the I-80 corridor out towards Sacramento.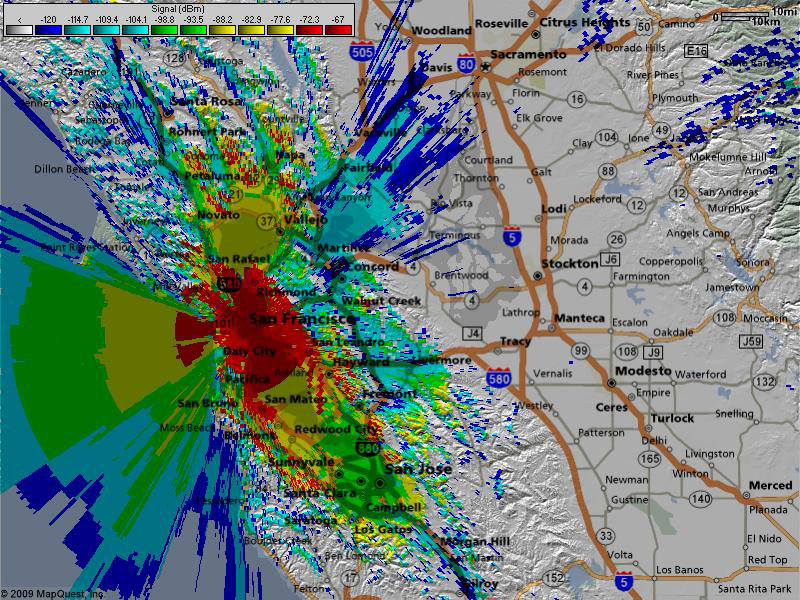 See this system on our Interactive Coverage Map
---
Disclaimer: Coverage maps are provided for informational purposes only.
C.A.R.L.A. would like to acknowledge and thank Radio Mobile for the use of their program.
Technical Data for System 2
| | |
| --- | --- |
| For the curious amongst us, here are further details about the equipment that makes up this C.A.R.L.A. System. For example, you can see what kind of transceiver we're using for a particular repeater, or what kind of link antenna, etc. If there are other repeaters or connections present, you can click on their name for further information. | |
| | |
| --- | --- |
| | System 2 |

| | |
| --- | --- |
| Equipment: | Motorola XPR8300 |
| Transmit Power: | 15w |
| Antenna: | Super Station Master Omni with 7 dB of gain |

Click Here

to see any current alerts for this system

| | |
| --- | --- |
| | Main Link |

| | |
| --- | --- |
| Type: | RF Link (connects to the Vaca Hub) |
| Equipment: | Motorola CDM |
| Transmit Power: | 20w |
| Antenna: | Diamond X50N with 7.2 dB of gain |

| | |
| --- | --- |
| | CARLA 1 |

| | |
| --- | --- |
| Type: | RF Remote Base |
| Equipment: | Motorola CDM |
| Transmit Power: | 20w |
| Antenna: | Diamond X50N with 7.2 dB of gain |
---