System 8: South Lake Tahoe
Details for System 8
About the System
:
If you're into winter skiing or summer water sports be sure to bring your HT when you visit the Lake Tahoe area. You can get into the C.A.R.L.A. 8 repeater from most ski resorts in the area and from most places on the lake or around the lake with just an HT and a few watts. A few of our users take kiyaks out on the lake on a fairly regular basis and use their HT to talk back to the "crew at the house" in Tahoe City or, with the link PL, to users on the rest of the system. Take a look at the coverage map below to get an idea of the coverage in the Lake Tahoe Basin.
---
System 8: South Lake Tahoe
K6LNK



| | |
| --- | --- |
| Frequency: | 442.075+ |
| Link PL: | 151.4 |
| Local PL: | 127.3 |
| Site Name: | Echo Summit |
| Elevation: | 8600' |
| City: | Meyers, CA |
| Controller: | SCOM 7330 |
| System Config: | Permanent Dual PL Link/Local System |



System Equipment Photo


Click the thumbnail below for a larger view





Dual PL & Courtesy Tones
This particular repeater in the C.A.R.L.A. System has a
Dual PL
. You can use the
Link PL
to hold a conversation with someone elsewhere on the network, or the
Local PL
to converse with someone who is on the same repeater as you are.
You can read more about the
Dual PL
system and the
Courtesy Tones
that are used on the system.
Coverage for System 8
Located at beautiful Lake Tahoe. At over 8,600' above sea level, it overlooks the West Shore, most all of the basin including North through Tahoe City, Carnelian Bay, Kings Beach, Stateline and Incline Village. It covers even more solidly across from it along the East/South side from Sand Harbor through South Lake Tahoe. It can be worked along Emerald Bay on up through Meeks Bay, Tahoma & Homewood but not as solidly. It can even be brought up, marginally, over the East side of Spooner Summit and down into parts of the Carson Valley and highway 50 corridor around Strawberry, Twin Bridges, Kyburz and parts of the Sacramento Valley.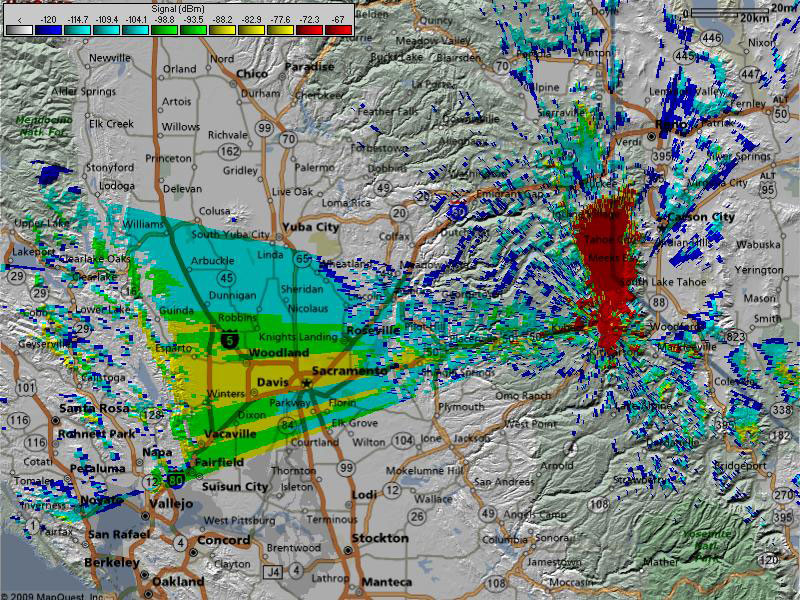 See this system on our Interactive Coverage Map
---
Disclaimer: Coverage maps are provided for informational purposes only.
C.A.R.L.A. would like to acknowledge and thank Radio Mobile for the use of their program.
Technical Data for System 8
| | |
| --- | --- |
| For the curious amongst us, here are further details about the equipment that makes up this C.A.R.L.A. System. For example, you can see what kind of transceiver we're using for a particular repeater, or what kind of link antenna, etc. If there are other repeaters or connections present, you can click on their name for further information. | |
| | |
| --- | --- |
| | System 8 |

| | |
| --- | --- |
| Equipment: | Motorola RKR1225 |
| Transmit Power: | 15w |
| Antenna: | Cellwave 4-Pole Offset with 7.2 dB of gain |

Click Here

to see any current alerts for this system

| | |
| --- | --- |
| | Main Link |

| | |
| --- | --- |
| Type: | RF Link (connects to the Vaca Hub) |
| Equipment: | Motorola CDM |
| Transmit Power: | 20w |
| Antenna: | Telewave 6-Element Yagi with 10.2 dB of gain |

| | |
| --- | --- |
| | Nevada Backup Link |

| | |
| --- | --- |
| Type: | RF Backup Link (connects to the Nevada Hub) |
| Equipment: | Motorola CDM |
| Transmit Power: | 20w |
| Antenna: | Antennex Y4063 Yagi with 7 dB of gain |
---