System 31: Los Angeles
Details for System 31
About the System
:
This system and connecting sites have been a several year work in
progress. In April of 2017, CARLA 31 was decommissioned and re-built from
scratch on the same mountain top but in a different building/tower. The
antennas are also being migrated onto a new tower so there
may be degraded service until the final configuration is in place
(expected summer 2017). Please stay tuned for more updates.
---
Tidbits
:
Santiago Pk. is one of SoCal's most centralized, high level sites at
nearly 6,000' and covers a large portion of the greater LA basin &
Southland area. The site can effectively reach out to close to 40 million
people!
---
System 31: Los Angeles
K6LNK



| | |
| --- | --- |
| Frequency: | 448.080- |
| Link PL: | 162.2 |
| Local PL: | 88.5 |
| Site Name: | Santiago Peak |
| Elevation: | 5670' |
| City: | Lake Forrest, CA |
| Controller: | SCom 7330 |
| System Config: | Permanent Dual PL Link/Local System |



System Equipment Photo


Click the thumbnail below for a larger view





Dual PL & Courtesy Tones
This particular repeater in the C.A.R.L.A. System has a
Dual PL
. You can use the
Link PL
to hold a conversation with someone elsewhere on the network, or the
Local PL
to converse with someone who is on the same repeater as you are.
You can read more about the
Dual PL
system and the
Courtesy Tones
that are used on the system.
Coverage for System 31
Coverage starts along the I-5 corridor in the North San Fernando Valley
through LA & Orange County to San Diego and into parts of Mexico. The
site covers along the coast North of Malibu through Santa Monica, Long
Beach, Huntington & Newport Beach, Dana Point, San Clemente, Oceanside,
the coastal islands and more. There is coverage towards the east in the
Inland Empire area which include parts of San Bernadino & Riverside
Counties such as Ontario, Oxnard, Corona, Fontana, Rancho Cucamonga,
etc...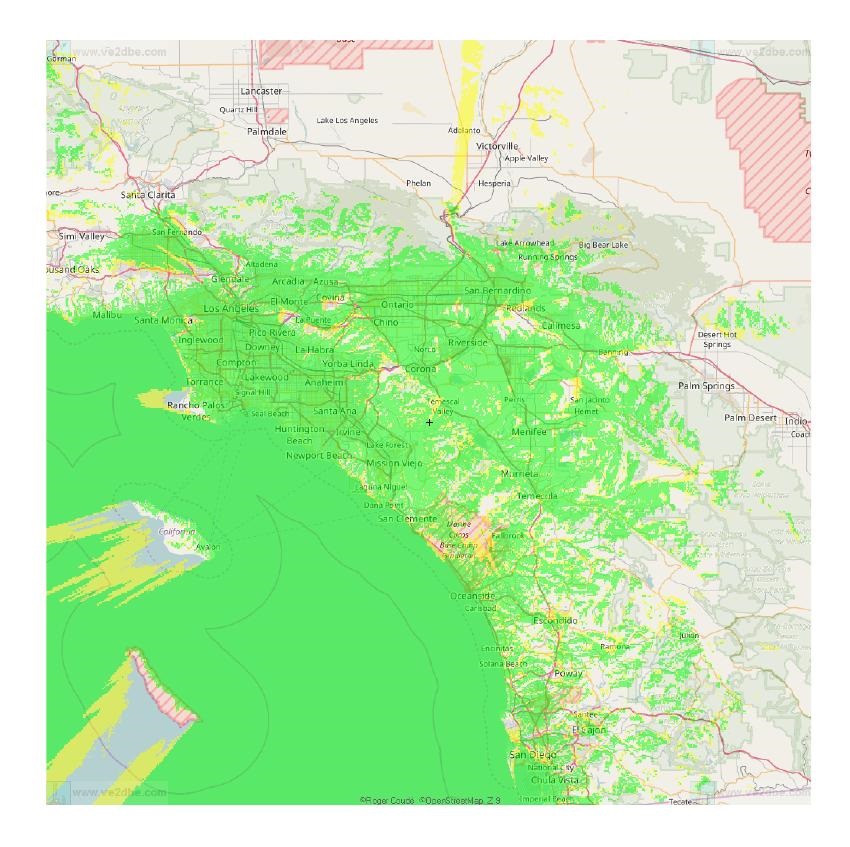 ---
Disclaimer: Coverage maps are provided for informational purposes only.
C.A.R.L.A. would like to acknowledge and thank Radio Mobile for the use of their program.
Technical Data for System 31
| | |
| --- | --- |
| For the curious amongst us, here are further details about the equipment that makes up this C.A.R.L.A. System. For example, you can see what kind of transceiver we're using for a particular repeater, or what kind of link antenna, etc. If there are other repeaters or connections present, you can click on their name for further information. | |
| | |
| --- | --- |
| | System 31 |

| | |
| --- | --- |
| Equipment: | Motorola SLR-5700 |
| Transmit Power: | 40w |
| Antenna: | 4 Bay exposed dipole with 8 dB of gain |

Click Here

to see any current alerts for this system

| | |
| --- | --- |
| | Main Link |

| | |
| --- | --- |
| Type: | RF Link (connects to the Santiago Extension) |
| Equipment: | Motorola CDM |
| Transmit Power: | 1w |
| Antenna: | |
---