System 6: Willows
Details for System 6
About the System
:
As you may have heard if you frequent the C.A.R.L.A. system of repeaters, System 6 is 100% solar powered. This was not by choice. The power lines that once went up to the site burned down when a fire swept through a nearby canyon several years ago. The decision was made to not invest in restoring power to the site. We subsequently installed solar panels, batteries and a wind generator. So, when you're using system 6, enjoy the fact that you're using 100% "green" power from the sun and wind.
Solar/Wind Power Considerations & System Behavior
Because of a need to conserve power on this system we have installed special programming which you may want to be aware of. It works like this: If there is a conversation anywhere on the system that goes for 5 minutes without anyone transmitting directly on System 6 it will cause System 6 to unlink from the system. That is, it will not transmit the conversation out System 6. It is still listening, so when the conversation on the system goes quiet for a full minute then System 6 will re-establish its link to the rest of the system. A couple of things to keep in mind:


If someone in the conversation is speaking directly on System 6 with the link PL then System 6 will stay linked into the rest of the system. It will not unlink after 5 minutes.

If someone is in the coverage area for System 6 and wants to bring the machine back into linked mode, then they would "kerchunk" System 6 with the Link PL and normal operation will be restored, and you'll be able to hear the conversation.

---
System 6: Willows
K6LNK



| | |
| --- | --- |
| Frequency: | 443.075+ |
| Link PL: | 167.9 |
| Local PL: | 114.8 |
| Site Name: | Snow Mt. Range |
| Elevation: | 6700' |
| City: | Stonyford, CA |
| Controller: | SCOM 7330 |
| System Config: | Permanent Dual PL Link/Local System |



System Equipment Photo


Click the thumbnail below for a larger view





Dual PL & Courtesy Tones
This particular repeater in the C.A.R.L.A. System has a
Dual PL
. You can use the
Link PL
to hold a conversation with someone elsewhere on the network, or the
Local PL
to converse with someone who is on the same repeater as you are.
You can read more about the
Dual PL
system and the
Courtesy Tones
that are used on the system.
Coverage for System 6
Located in Glenn County, in the Snow Mt. Range near the towns of Stonyford and Maxwell, approximately 100 miles South of Shasta, at just under 7000' elevation. This high-level, wide area coverage machine covers from around the Shasta Lake area South through Redding, Red Bluff, Willows, Chico, Yuba City and Oroville down along the I-5 and Hwy 99 corridors to Sacramento. It picks up West around Vacaville and follows a similar path to system 5, Eastward, through the I-80 corridor through Dixon, Sacramento, Auburn, Foresthill and marginally into the foothills and Sierras. Power and coverage have been significantly reduced due to PAVE PAWS.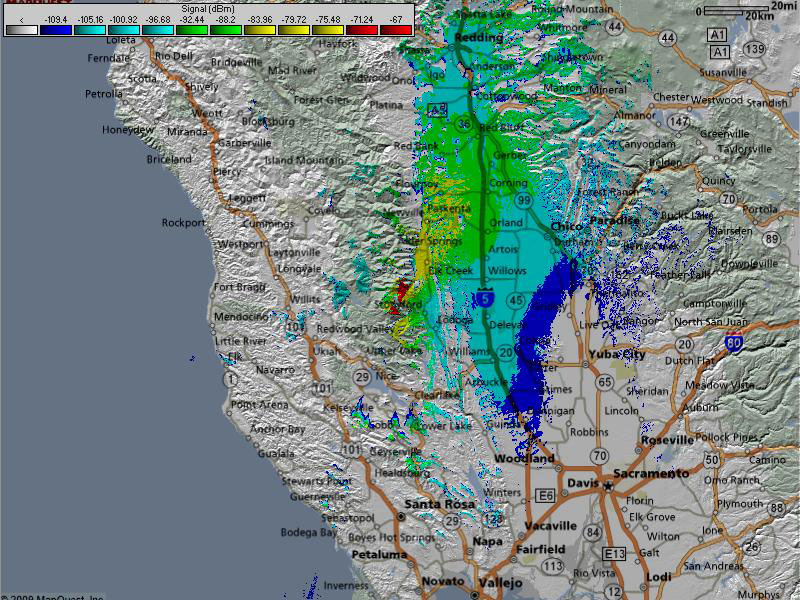 See this system on our Interactive Coverage Map
---
Disclaimer: Coverage maps are provided for informational purposes only.
C.A.R.L.A. would like to acknowledge and thank Radio Mobile for the use of their program.
Technical Data for System 6
| | |
| --- | --- |
| For the curious amongst us, here are further details about the equipment that makes up this C.A.R.L.A. System. For example, you can see what kind of transceiver we're using for a particular repeater, or what kind of link antenna, etc. If there are other repeaters or connections present, you can click on their name for further information. | |
| | |
| --- | --- |
| | System 6 |

| | |
| --- | --- |
| Equipment: | GE MASTR II |
| Transmit Power: | 1w |
| Antenna: | Corner Reflectors, Dual with 7.8 dB of gain |

Click Here

to see any current alerts for this system

| | |
| --- | --- |
| | Main Link |

| | |
| --- | --- |
| Type: | RF Link (connects to the Vaca Hub) |
| Equipment: | Motorola CDM |
| Transmit Power: | 20w |
| Antenna: | Antennex Y4066 Yagi with 10.2 dB of gain |

| | |
| --- | --- |
| Equipment: | Motorola RKR1225 |
| Transmit Power: | 5w |
| Antenna: | Telewave ANT150D3 2-Bay Dipole with 5 dB of gain |
---