System 22: Hawthorne
Details for System 22
About the System
:
C.A.R.L.A. 22 covers a very large area of Western-Central Nevada from Carson City to South of Big Pine on I-395.
---
System 22: Hawthorne
K6LNK



| | |
| --- | --- |
| Frequency: | 440.725+ |
| Link PL: | 156.7 |
| Local PL: | 127.3 |
| Site Name: | Corey Peak |
| Elevation: | 10300' |
| City: | Hawthorne, NV |
| Controller: | SCOM 7330 |
| System Config: | Permanent Dual PL Link/Local System |



System Equipment Photo


Click the thumbnail below for a larger view





Dual PL & Courtesy Tones
This particular repeater in the C.A.R.L.A. System has a
Dual PL
. You can use the
Link PL
to hold a conversation with someone elsewhere on the network, or the
Local PL
to converse with someone who is on the same repeater as you are.
You can read more about the
Dual PL
system and the
Courtesy Tones
that are used on the system.
Coverage for System 22
Located near Hawthorne Nevada at 10,300 feet elevation. Due to its high elevation this repeater's coverage touches several counties including Mineral, Lyon, Mono, Douglas, Churchill, Inyo & Esmeralda. Coverage includes Hawthorne, Walker Lake & Valley, Coaldale, Goldfield, Sweetwater. Hwy 395 from the Carson Valley through Minden, Gardnerville & Topaz. It picks up again around Bridgeport and South through Lee Vining, Mammoth Lakes, Mono Lake, June Lake, Bishop, Big Pine & Owens Valley. It covers out Hwy 6 to Coaldale, Tonopah, Benton & Basalt. Towards the North end of its coverage is Nixon near Pyramid Lake and parts of Fernley & Lovelock along I-80, and on Hwy 50 starting East of Fallon to Cold Springs, Stillwater and Dixie Valley. Along Route 95/95A corridors includes Fallon, Wabuska, Yerrington, Luning, Mina, Mason, Smith, Wellington, Schurz & the Smith & Mason Valleys.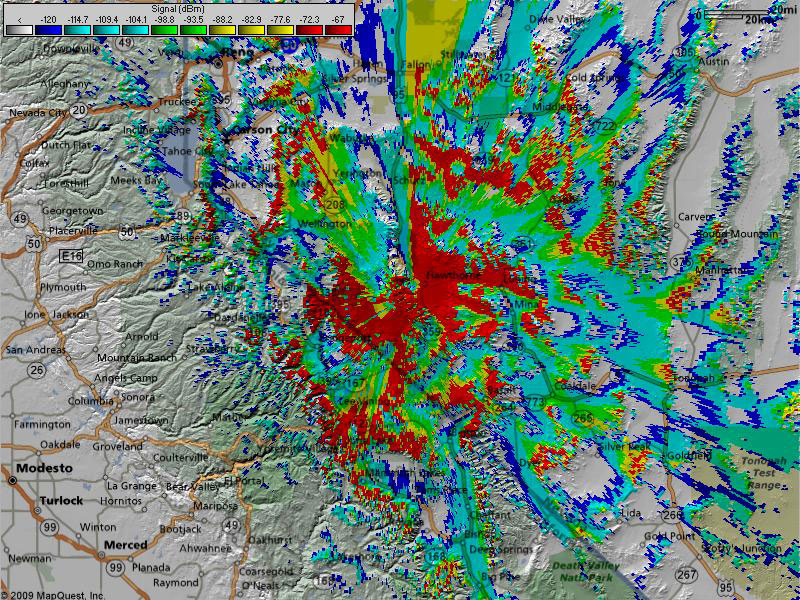 See this system on our Interactive Coverage Map
---
Disclaimer: Coverage maps are provided for informational purposes only.
C.A.R.L.A. would like to acknowledge and thank Radio Mobile for the use of their program.
Technical Data for System 22
| | |
| --- | --- |
| For the curious amongst us, here are further details about the equipment that makes up this C.A.R.L.A. System. For example, you can see what kind of transceiver we're using for a particular repeater, or what kind of link antenna, etc. If there are other repeaters or connections present, you can click on their name for further information. | |
| | |
| --- | --- |
| | System 22 |

| | |
| --- | --- |
| Equipment: | Motorola RKR1225 |
| Transmit Power: | 50w |
| Antenna: | Telewave ANT450D9 4-Bay Dipole with 9 dB of gain |

Click Here

to see any current alerts for this system

| | |
| --- | --- |
| | Main Link |

| | |
| --- | --- |
| Type: | RF Link (connects to the Nevada Hub) |
| Equipment: | Motorola CDM |
| Transmit Power: | 15w |
| Antenna: | Telewave 6-Element Yagi with 10.2 dB of gain |
---