System 35: Oakland
Details for System 35
About the System
:
CARLA 35 resides along with CARLA 5 (UHF) as well as the primary Echo-
IRLP Node & RoIP link to CARLA 13 which serves as the Shasta Ring Hub.
This is the primary site for the greater San Francisco Bay Area.
---
Tidbits
:
CARLA 35 was previously owned by Roger Spindler, WA6AFT (SK) and
graciously donated to CARLA for integration into our network after it
needed a new home. It has been a excellent replacement due to CARLA 5's
reduced coverage from the PAVE PAWS issue.
---
System 35: Oakland
K6LNK



| | |
| --- | --- |
| Frequency: | 146.850- |
| Link PL: | 162.2 |
| Local PL: | 103.5 |
| Site Name: | East Bay Hills |
| Elevation: | 1500' |
| City: | Orinda, CA |
| Controller: | RLC DSP-404 |
| System Config: | Permanent Dual PL Link/Local System |



System Equipment Photo


Click the thumbnail below for a larger view





Dual PL & Courtesy Tones
This particular repeater in the C.A.R.L.A. System has a
Dual PL
. You can use the
Link PL
to hold a conversation with someone elsewhere on the network, or the
Local PL
to converse with someone who is on the same repeater as you are.
You can read more about the
Dual PL
system and the
Courtesy Tones
that are used on the system.
Coverage for System 35
Located in the East Bay hills at around 1,500' elevation at the same
location as CARLA 5 (UHF). This machine has wide area coverage
including most of the greater S.F. Bay Area from Marin County, Sonoma
and Napa Counties. Lafayette, Walnut Creek, Concord, Martinez, Pleasant
Hill, as well as Antioch, Pittsburgh, Bay Point on out Hwy 4 and 12 to
the Stockton area. The system also reaches out along many parts of the
I-80 corridor through Fairfield, Vacaville, Sacramento, and Auburn.
This system essentially has the same coverage that CARLA 5 used to have
prior to the PAVE PAWS power/coverage mitigation efforts.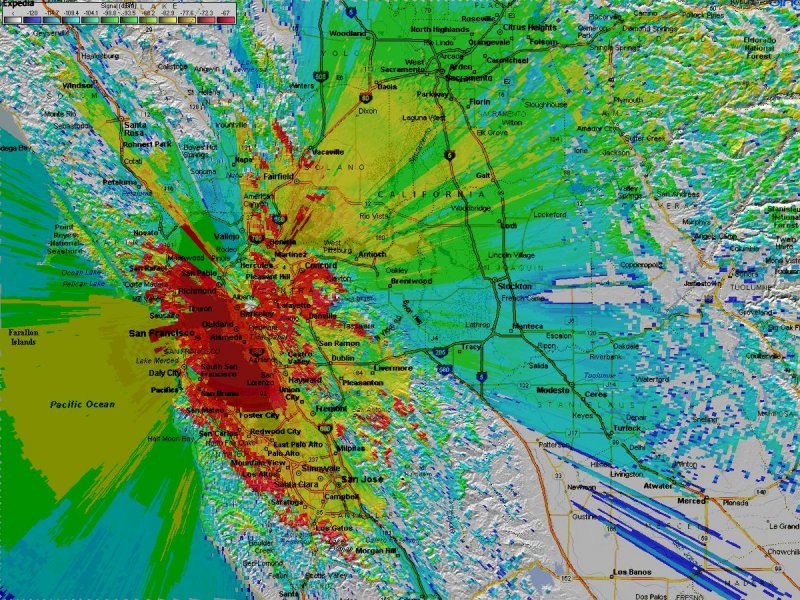 See this system on our Interactive Coverage Map
---
Disclaimer: Coverage maps are provided for informational purposes only.
C.A.R.L.A. would like to acknowledge and thank Radio Mobile for the use of their program.
Technical Data for System 35
| | |
| --- | --- |
| For the curious amongst us, here are further details about the equipment that makes up this C.A.R.L.A. System. For example, you can see what kind of transceiver we're using for a particular repeater, or what kind of link antenna, etc. If there are other repeaters or connections present, you can click on their name for further information. | |
| | |
| --- | --- |
| Equipment: | Motorola MSF5000 CXB |
| Transmit Power: | 15w |
| Antenna: | Andrew DB-408 Dual 4-Bay with 7.8 dB of gain |

| | |
| --- | --- |
| | Main Link |

| | |
| --- | --- |
| Type: | RF Link (connects to the Vaca Hub) |
| Equipment: | Motorola CDM |
| Transmit Power: | 15w |
| Antenna: | Antennex Y4066 Yagi with 10.2 dB of gain |

| | |
| --- | --- |
| Type: | Wireline Node |
| Equipment: | Node 1 Server |

| | |
| --- | --- |
| | System 35 |

| | |
| --- | --- |
| Equipment: | Motorola MSR2000 |
| Transmit Power: | 40w |
| Antenna: | Hustler G6 with 6 dB of gain |

Click Here

to see any current alerts for this system

| | |
| --- | --- |
| | Topaz Extension |

| | |
| --- | --- |
| Type: | Wireline Dedicated Network Extension |
| Equipment: | Wireline DNE |
---